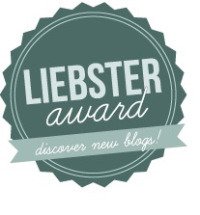 One of the biggest things that attracted to me to blogging in the personal finance niche is the supportive community.
After months of reading and lurking around so many great blogs, I decided to step into the fray.  So far, it's been nothing short of a positive experience!
Recently, two wonderful blog ladies nominated me for the Liebster Award- Addison at Cashville Skyline, and Bre at The Weight of Debt.  Thank you both so much!
Since they both gave 10 questions to answer, I'm going to do 5 from each.
What is your favorite thing about yourself?
I'd have to say that I'm pretty adventurous, and that's what has led to me to have some great experiences in life so far.
What is your greatest accomplishment?
Does my kid count as an accomplishment?  Cause I'm pretty darn proud of her 🙂
If you could do anything for a living and money wasn't an issue, what would it be?
I would travel and write.  I love seasonal/adventure jobs, and I would love to be able to work in that kind of environment year-round, live all over, and write in my free time.
What in life is holding you back from living your dreams?
I'd have to say fear, plain and simple.  Fear of failure, and perhaps fear of the unknown.  I do think that eventually everything will come together so that some of those dreams can become reality.
If you could take the vacation of a lifetime, where would you go and why?
This is tough to answer because I'm down for vacationing in a lot of different places!  At the moment, I'm kind of fixated on Thailand after seeing an acquaintance's photos from a recent trip.  Exploring temples and lounging on exotic beaches sounds pretty damn good at the moment.
What advice would you give your 18-year-old self?
I would like to tell 18-year-old Lauren that the guy that you're about to start dating is not going to change, so spare yourself the heartache after the breakup.  Awesome things are just around the bend.  And invest some money- you'll thank me later.
What's your musical guilty pleasure?
Well, sometimes I like to harken back to my youth, very occasionally, by listening to bands like Blink 182, Third Eye Blind, Hanson, etc..  Basically, stuff that was popular when I was in middle school and high school.  Let's be honest- it wasn't great music then, and it's possibly worse today, but you know, nostalgia and all that.
Five favorite cities or places
Southeast Alaska.  Sofia, Bulgaria.  Ocean City, New Jersey.  The Pacific Northwest.  And any new city that I have yet to explore.
What's your favorite thing to geek out about, other than pf?
Travel, road trips, hiking, and just exploring anywhere new and interesting to me.  Nothing excites me more than getting out into a place on foot and wandering around.
What do you find the most challenging about blogging?
Keeping up with social media and my blog roll!  It feels like you have to be everywhere, all the time.  If I miss a day or 2 of my reading list, it's hopeless to try to go back and catch up.  I find it hard to juggle social media accounts along with everything else, but there's no way to around it.
Since it seems like just about everyone has been posting about the Liebster award lately, I'm not sure who I can pass it along to without repeating, but here are my picks:
Michael at Save-Invest-Grow
Connie at Savvy With Saving
Jon at Our Fine Adventure