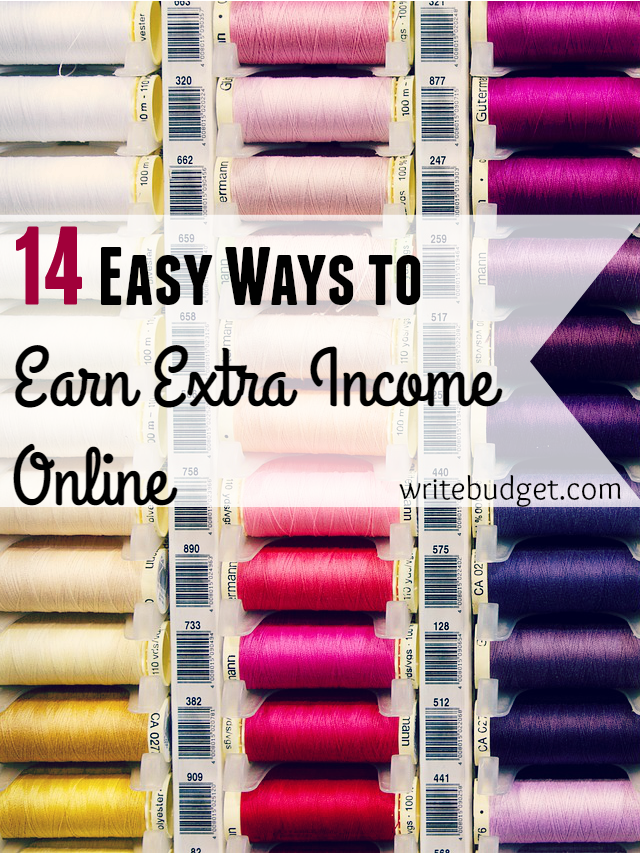 Looking to make some easy money from home? You won't get rich quick with any of these ideas, but they are excellent ways to earn some extra income online. The best part is that you can start doing many of them right away! Here are 14 easy ways to make extra money online:
Be a website tester
User Testing is an awesome service that allows you to make money from home in just a matter of minutes. You get to "test" out websites and offer your thoughts and opinions on elements like navigation, design, and content.
Freelance writing
Do you have a way with words? Offer your skills as a freelance writer/blogger. Check out sites like the ProBlogger job board to connect with site owners seeking skilled writers. If you want to start writing online, check this post I wrote about my experience.
Virtual Assistant
Website owners can use a little help every now and then, and that's where virtual assistants come in. As a virtual assistant, you could be doing tasks like responding to emails, updating social media, researching info, and more.
Blogging
Start your own blog and start sharing your thoughts and ideas with the world! Whatever you want to blog about, you will likely be able to find products or services to promote as an affiliate. There are plenty of advertising networks out there today worth checking out, like AdSense and Media.net. Blogging is a fun hobby, and if it can bring you a few extra dollars every month, why not?
Become a Coach
Do you have specialized skills, solid experience, and knowledge about something that could benefit others? You could offer services as a coach or mentor, sharing what you know with people interested in the same things and helping them in their own journey.
Sell on eBay
You don't need me to tell you about eBay. From selling off unwanted items to selling collectables, eBay is the place to go if you want to reach a worldwide market. The start up costs are minimal, assuming you aren't purchasing brand new items to sell.
Sell on Craigslist
Get rid of your unwanted items on Craigslist. It's an ideal place to sell furniture, appliances, and household items.
Start an Etsy shop
Do you make something cool? Do you love to craft, or collect vintage items? Turn your passion into cash with an Etsy shop. This is a great starting point if you want to eventually run your own online web store, since Etsy gets tons of traffic and makes it easy to start selling your handmade and vintage items.
Sell on Amazon 
Amazon allows you to start a shop through their Fulfilment by Amazon program. You get the products, ship them off to Amazon's warehouses, and they handle the selling. It's a little more involved than selling on eBay or Craigslist, but once you get the hang of it, it could be a nice way to generate income.
Earn Gift Cards
Swagbucks is a great site to join if you like to earn gift cards for places like Target, Starbucks, Old Navy, etc. You build up your rewards balance by doing easy activities, searching through their site, and taking advantage of offers. Read more about why I love Swagbucks here.
Offer Web Design Services
If you have web design skills, put them to good use by offering them to others. There are plenty of bloggers and site owners out there (like me) who have minimal skills in this area, and are happy to pay someone else for their creativity and knowledge.
Sell Your Creative Designs
If you create beautiful, original designs, you can sell on sites like Spoonflower. Spoonflower specializes in original designs for fabric, wallpaper, gift wrap, and decals. You can see your designs turned into an actual product, and you get a percentage when it sells.
Offer Services on Fiverr
This is a really easy way to make some money on your own terms. If you can think of it, you can probably offer it on Fiverr. People are making money off of silly things like writing your name in spaghetti, and people are making money on skilled things like freelance writing and video production. Check out my in-depth review of Fiverr here. You can make much more than $5 a pop, too!
Use Social Media
Leverage your social media influence to make some easy money. If you have a decent following on Twitter, Facebook, Instagram, etc., there are brands willing to pay for exposure to your audience. Izea is a great way to earn by doing sponsored tweets for brands.
You probably aren't going to replace your full-time job with any of these (unless you go full-time freelance), but they could make excellent side hustles if you want to earn extra income online. A little extra certainly never hurts!