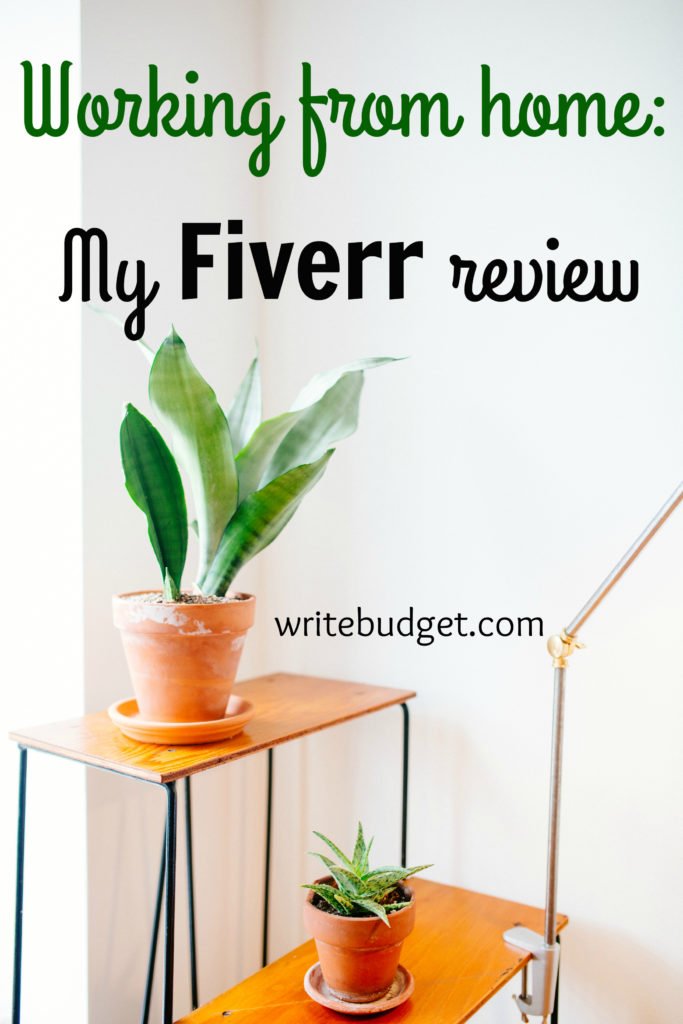 After my last post, many of you commented that you were looking forward to hearing my Fiverr review. I hope this gives you some insight on how it works, and maybe you'll find it to be worth a try!
Although I've known about Fiverr for a while, I had never considered using it myself until my challenge to earn $2k in 2 months through side hustles. About 2 weeks ago, I decided to join, and within a few hours, I had received my first order. I'm happy to report that so far, it's proving to be a good resource for a little extra income.
How Fiverr Works
As the name suggests, every "gig" being offered on the site is listed at $5. If you're a seller, you simply "Create a gig", spelling out exactly what it is that you are willing to do for a base fee of 5 bucks. You can come up with just about anything, so if you have a talent or a skill that you want to make money from, it's worth offering and seeing if you get some bites. You can see analytics on how many views your gigs receive, and you get to add tags to each one to help buyers find them through the search function.
A buyer will check out the details of your listing, then send you a message with questions, or simply place their order. You get an email from Fiverr letting you know that a message or order has come in, and then you can get started.
What "Gigs" Should You Offer?
If you've thought about selling on Fiverr but were intimidated by the sheer number of sellers already there, fear not! There are hundreds of things being sold, from writing services to tangible items to illustrations to web designs to logo designs, etc., etc. There's even a category for bizarre stuff, like someone who will write a message in the sand on a beach, or someone who will be your "mystery girlfriend" on facebook. Yep, it can get pretty weird browsing through gigs.
I started out by creating a listing for web content services. You have plenty of space in the description to state exactly what you will offer a buyer, and you set your turnaround time. Initially, I offered up to 500 words with a turnaround time of 3 days. As I mentioned, I got my first inquiry within a few hours, and had several jobs within the first few days. You can modify your gig at any time, which is great because I have already gone in and tweaked my offering a bit.
Pros and Cons
Fiverr definitely isn't perfect, and no one is going to get rich off of offering "gigs" for $5 a pop. The fixed pay rate is so low, which is a big con for any freelancer. Fiverr takes 20%, so they keep $1 right off the bat, and a seller is only going to see $4 per job, at first.
On the plus side, you can specify in your description that you will only do X amount of work for 1 gig, so if a buyer wants more, they need to order more gigs so that you can receive an aceptable level of pay. For example, I had a buyer ask for an image to go with an article that I wrote. I politely explained that that was not included. This is beyond what I'm willing to do for $4, so I added that into my gig description for future buyers, so that they're aware. I'll find them an image to go with the article, but they need to purchase an additional gig for that.
Another good feature is that once you achieve a certain number of sales, you can add "extras" on to your gig. So you can say, "I will do X for $5, add $5, $10, $20 for X, Y, and Z. A lot of sellers offer an expedited order for an additional fee. This is really where the money is to be made, in the extras.
One of the potential problems is that the very nature of a $5 service attracts some demanding buyers with high expectations, many of whom try to take advantage of the services being offered. I have not yet encountered this kind of buyer, but the Fiverr forums are rife with complaints from other sellers.
Getting Paid
The payment process is a little unusual. There's a waiting period on each payment, which from what I understand is up to 14 days. Once the payment is "cleared", you can cash out to your PayPal, with no minimum. I am still waiting to cash out my earnings. Another downside is that you pay the PayPal fees, so there goes a few more cents from your bottom line.
Final Thoughts
Overall, I think that Fiverr has some benefits for side hustlers. Don't expect to make it your main money maker, but look at it as something fun that you can try out. It's just one more platform you can use to bring in a little extra cash. Since the payout is so low, stick to something that you can do quickly and easily.
Have you tried using Fiverr yet, or will you give it a try now? If you have any questions, ask away in the comments!