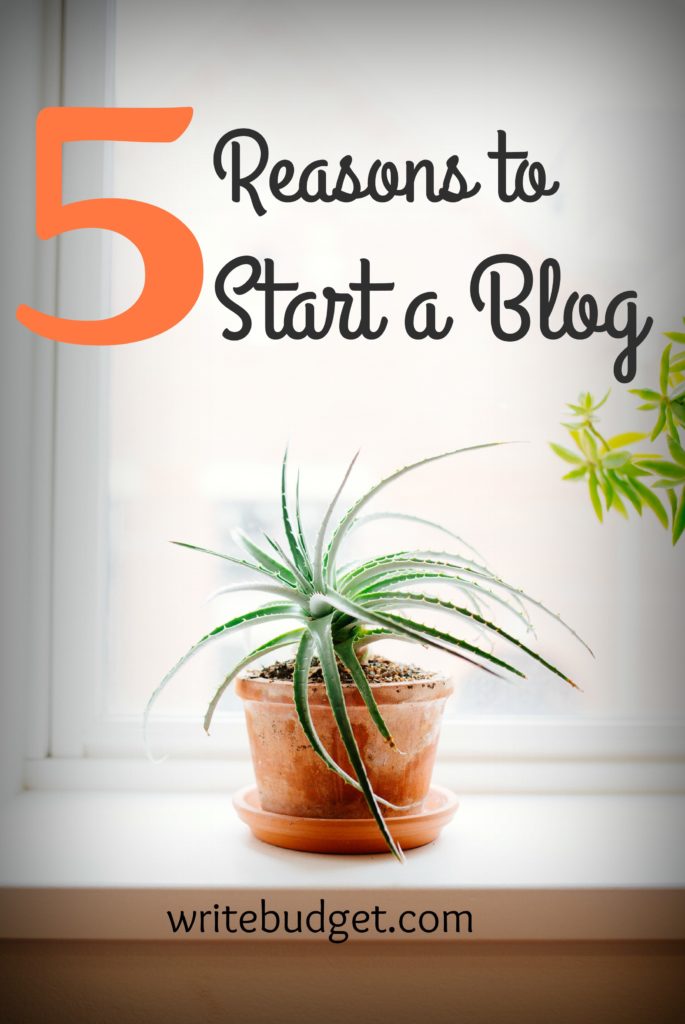 I know that many of you reading this already have your own blog, but there are also many of you out there who have probably been toying with the idea of starting a blog, but just haven't done it yet. It can seem overwhelming to get started, and you may be hesitant to dive into a new hobby.
I can tell you from personal experience that having your own blog can be both fun and rewarding. If you're on the fence about it, and haven't been sure if and when you should take the leap, here are 5 reasons to start a blog today:
Accountability
A blog helps you stay accountable, especially when it comes to your financial and other personal goals. It provides an easy way to track your progress over weeks, months, and even years. If you start a blog today, this time next year, you'll find yourself reading back over old posts and seeing just how far you have come! So when you want to achieve certain goals, like paying down debt, earning more from side hustles, or just improving your finances on the whole, blogging makes it easy to hold yourself publicly accountable.
Focus
If you have a specific goal or an interest that you're trying to stay focused on, a blog is an excellent tool for helping you do that. I'm sure many debt bloggers will tell you that by writing about their journey and sharing it online, it has helped them to stay on track. I know that for me personally, I spend a lot of time thinking about our finances anyway, and this blog has helped me to stay focused on my freelance writing goals so that I can meet my financial goals.
Improvement
A blog is an excellent place to hone and improve your writing skills. If you have ambitions of becoming a freelance blogger or writer, even just as a side hustle, your own personal blog is the perfect place to improve your writing. Over time, you'll get a better feel for how a good blog post should flow. If you choose to self-host your website and install WordPress, which I highly recommend, you'll also get a taste for the more technical side of things. That can be a big plus when seeking freelance jobs.


Networking
No matter what you choose to blog about, chances are that there is already an extremely active community of like-minded people online. When you start a blog and begin sharing your thoughts and ideas with the world, you can't expect people to just find you. You have to start networking by connecting with others. Commenting on other blogs and contributing to forums are much easier to do when you're a blogger. Networking is an excellent way to find new clients, more opportunities, and form lasting relationships with other people.
Taking Control
Start a blog that's self-hosted and take control of your future. That may sound dramatic, but blogging is an activity that has changed people's lives. Just thinking about the personal finance community, I can think of several fellow bloggers who have taken the leap to self-employment in recent months. Without a blog, I doubt that many of them would have had the motivation or the courage to take that leap.
I can't say that I would have had the courage to pursue freelance writing if I hadn't already been blogging for a few years. My only regret is that I didn't start sooner! If you're ready to change directions and start achieving your goals, blogging is a great tool to help you get started.
*I included my Bluehost affiliate link. I use Bluehost for my blog, and I highly recommend them!