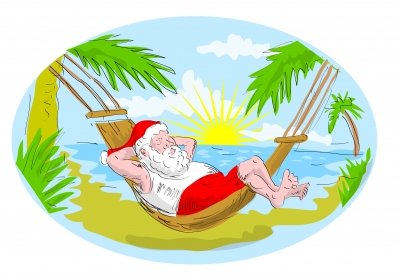 Christmas may still be 5 months away, but I'm just about done shopping for gifts!
Yep, that's right, I'm extra organized and on the ball this year. There's a few reasons for this- first, we're bringing gifts with us overseas in September to avoid having to ship things during the busy holiday season, and second, I wanted to put the spending on the Barclaycard and earn those bonus rewards.
Here are some advantages to shopping for Christmas in July:
Less Stress at the Holidays
The holidays are always crazy-busy. Between snow storms, holiday parties, family gatherings, etc., your days can get pretty jam-packed. I always feel the pressure to get out there and get more gifts the closer it is to Christmas. This year, I can avoid the extra stress of shopping and spend more time baking (and eating) cookies.
Less Strain on your Budget
By spreading out the spending, your budget won't take a big hit around the holidays. Money is going to be extra tight for us once we get back from our trip in late September, and I don't want to have to worry about paying for presents or buying them on credit. The money we spend now means that we won't have to spend it later.
Find Different Merchandise
I hate the way that every big box store has the same old stuff sitting on the shelves. It's hard to surprise people with good gifts when you know that everybody has seen the same things at Target and the mall. If you start shopping this early, you can find different merchandise. If you travel and take a vacation, you can check out shops while you're away and pick up some especially unique gifts.
Some of the downsides to super early Christmas shopping:
Seasonally Inappropriate Clothing
This was something that I hadn't really thought about until I was browsing the racks. Just about everything that's in stores at the moment is geared towards the summer season, obviously. Forget finding a sweater, scarf, or mittens!
Finding Somewhere to Stash the Gifts
Our house is pretty small, and there's little real estate left in the closets. Trying to figure out where to stash the gifts has been interesting. I'm hoping that my super sleuth 3 year old doesn't sniff out the things that I have hidden away.
Getting most of my shopping done now has me feeling a sense of relief. Come Christmastime, I won't have to be out there, stressing about what to buy at the last minute. I was also able to put the spending towards the requirements for a bonus on the Barclaycard, so that's a major plus.
What about you- do you do early Xmas shopping?