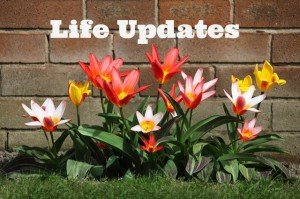 Happy Friday! All week long, I was thinking that we were a day ahead, so it's like I got a bonus day this week! Or something like that…
Anyway, I think I'm letting go of the Weekly Wrap-Up for now. I like doing a wrap-up, but I just got tired of the title, so for now, I'll stick to updates.
Life in General
I know everyone says it, but man, this summer is just flying by! We're headed down the shore at the end of the month, and then August will be spent getting ready for our trip in September. We're so excited to go to Bulgaria. We've been working on our itinerary so that we can fit a lot in. We'll be spending time in the city, the countryside, and by the beach, and possibly even taking a quick trip to Greece and/or Serbia. I can't wait.
We planted a small garden this year, and so far, so good! We've had tons of cucumbers, a few heads of lettuce, and we've got hot peppers, tomatoes, and cherry tomatoes ripening. Unfortunately, within the last week or so, there seems to be beetles wreaking havoc on our cucumber plant. We need to take care of this asap. Any advice?
Fitness
I'll admit, I lost steam with my body weight workout last month. I have continued to eat well though, and I'm still making my smoothies.
After looking around for some fun fitness options, I came across hooping. I ran out and bought a cheap kiddie hula hoop, not knowing that it wouldn't work for an adult. After a little more research, I ordered this hoop
 from Amazon(affiliate), and I cannot wait to receive it!  Have you ever tried hooping?
Blog & Business
Traffic on the blog is slower this month, which I think can be attributed to the holiday, and summer in general. Everything in the freelance and online world seems to slow a bit during the summer months, so I'm not surprised. There have been days where I haven't felt like doing much online because I'd rather be outdoors or hang with the family.
My side hustles are still bringing in some money. Fiverr is going okay, although again, sales have slowed down in the past few days. I don't know if I'll hit that $2k goal, but that's alright. I'll continue trying and doing what I can.
Finances
We hit the spending requirement for the Barclaycard, so we can stop thinking about it. I recieved the bonus miles as soon as we spent $3k, which was exciting to see in the account. Xmas shopping is almost done, and at this point, we've spent less than $200. This includes gifts for my in-laws, our niece, a cousin, and our daughter.
In August, we need to get our finances in order. Our income will take a hit while we're gone, and we still have to be able to pay our bills, including health insurance. Since it comes out of M.'s paychecks, we'll probably have to write a check for part of the payment. Not fun.
Reading Rainbow
Please check out my new post on Travel Blue Book:
Carve Out Time to Stop at Mount Rushmore
I enjoyed these posts by others:
How Staring a Blog can Help You Achieve Your Goals by a Disease Called Debt
Why Used Stuff is Better Than New by Club Thrifty
To get ahead, get started by Impersonal Finance
and thanks to Single Moms Income for including my post in the Carnival of Money Pros!
Have a great weekend!