Happy weekend, frugal friends and fellow freelancers! I hope the autumnal weather is treating you well in your area. We've been having some unseasonably warm days, which is actually making me wish it would cool down a bit.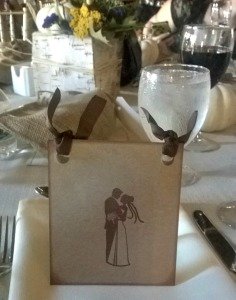 Last Sunday, we attended my cousin's wedding. It was a beautiful fall theme, and they definitely could not have wished for better weather. I love fall weddings because you can really carry the colors of the season throughout the decor. We also got to take our pumpkin placeholders home- score one for frugal fall decor!
We took our daughter to the pumpkin patch last week at a local orchard and enjoyed some apple cider and apple cider donuts, yum. We love that place in any season, but I think I'd like to make one more visit before Halloween. I'm on the fence about the haunted hayride, though- I keep thinking, do I really want to pay $20 to give myself a heart attack? I used to absolutely love haunted houses and all that spooky stuff when I was younger, but the older I get, I find myself becoming more of a scaredy cat! Anybody else like this?
On to the shout outs:
I was extremely flattered to be included in Cash Cow Couple's Woman Crush Wednesday last week with such fabulous company. If you haven't had a chance to check that out, be sure to head over and read about many of your favorite PF ladies.
How to Make Extra Money Using Qmee by DC at Young Adult Money
Run Your Own Race by Shannon at Financially Blonde
Up in the Air by Tonya at Budget and the Beach
5 Tips for Making Budgeting Fun for Creatives by Liz at Budgeting for More
Behind the Scenes Blog Tour by Erin at Journey to Saving
Have a great weekend!