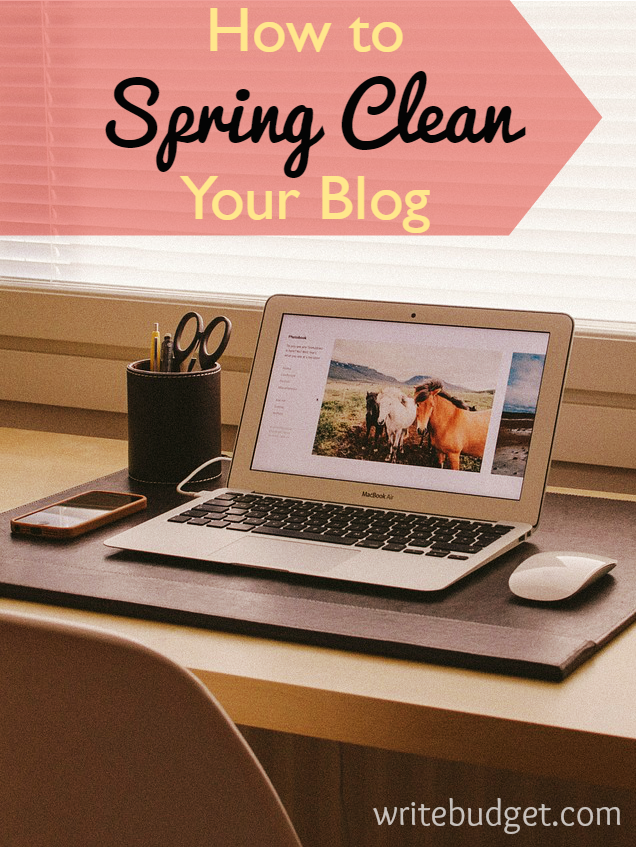 If you're a blogger, you probably don't find yourself with a lot of time to spare.  Between family responsibilities, day jobs, side hustles, writing posts, and visiting other blogs, it can be easy to let the upkeep of your own site sit on the back burner.
While you're taking the time to organize other areas of your life over the next few weeks, now is also the perfect time for Spring Cleaning your blog. There are a lot of elements that probably overlook on a daily basis, but it's important to maintain the "health" and cleanliness of your site in order to keep it secure and running smoothly.
Here are a few easy ways to tidy up your online home:
Remove Broken Links
Now matter how old or new your blog is, you can easily wind up with broken links on your site. These are links that either you or your commenters may have left that no longer lead to an existing page. Broken links look bad for a website and can have a negative impact on search rankings! It's also a lousy experience for your readers who click on these links to nowhere.
Luckily, there is a quick and easy way to find them, with BrokenLinkCheck.com. Just enter your URL, and all of the pages on your blog will be scanned for bad links. Then you can go through one by one and edit or remove them. In the first few months of having this site, I already had a handful of broken links to remove. Yes, it's a pain and it can be time consuming, but it's well worth it to get those dead links off of your blog!
Clear Out Drafts Folder
As someone who has spent almost everyday of the last few years writing, I have a lot of ideas that will pop into my head at random times. It could be an idea for a post, a headline that I like, or a brief outline of what I'd like to expand on with a particular topic. If you're anything like me, that means that the post count in your drafts folder probably rivals that of the published one!
I often go back to drafts and continue to work on posts, but there are some that I will likely never get back to writing, for whatever reason. Sometimes something will seem relevant and important in the moment, and then seem completely irrelevant later on. That's why it's a good idea to go through the drafts every so often and let go of the posts that are just taking up space.
De-clutter Sidebars
Nobody enjoys trying to read through a cluttered website. Take a look at your sidebars and see what can be trimmed away to make it neater and more appealing. You may be able to let go of old widgets, organize and reduce your tags, add relevant social media links, and remove anything that isn't essential or attractive.
Tighten up Security
After my recent security scare, I'm not taking any chances when it comes to my website, and you shouldn't either! Go through your installed Plugins and downloaded themes, and remove any that aren't in use. When updates are needed, complete them right away.
If you haven't already, consider installing a security Plugin, like Wordfence. With Wordfence, you can scan your site for viruses, receive notifications anytime someone attempts to log in to your site, block and ban IP addresses, and much more. It's unfortunate that something we work so hard on can be so attractive to those with malicious intents, but that's just the reality of it. Take security seriously and protect your site!
So there you have it- 4 easy ways for Spring Cleaning your blog. The best part is, you don't even have to break a sweat to get it all done!
Do you have any site maintenance tips to share?