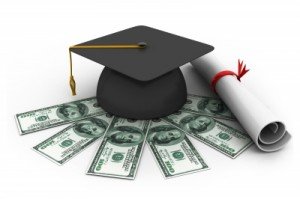 I can remember it like it was yesterday… Standing in line at the financial aid office of my university, waiting to turn in an application for the student loans that would make it possible for me to earn a Bachelor's degree. I was about to get myself into student loan debt.
I probably should have been nervous about taking on student loan debt, but paying it back was so far off into the future that I barely gave it a thought. It was something to worry about some other day, years down the line.



An Associate's Degree Paid in Cash
After high school, I took the debt free route to higher education. I considered a few state schools, but ultimately, I settled on community college. My parents offered to help pay, gave me a car to use, and allowed me to continue living at home for free. I went to school full-time and worked part-time, even paying for most of the semesters on my own, simply because I wanted to.
When I graduated with an Associate's degree, I was pretty proud of myself. I had worked hard, kept up my GPA, and had done it all without getting into any debt. Next, I started thinking about transferring to earn my Bachelor's.
Making a Move
I enrolled in a nearby university, but from the moment I set foot on the campus, I just knew that it wasn't right for me. The price was right-very affordable, but the commute and the program just weren't.
I remained uncertain and uneasy until the last minute. The night before my first classes were set to begin, I backed out. I wasn't sure what I'd do next, but that particular school wasn't it.
After a few months, an exciting possibility came up. It involved moving to another state, one much warmer and sunnier than Pennsylvania. It offered an ideal living situation and a reputable university. I applied to the school, got in, and headed down to Florida.
Applying For Loans
Like 85% of other students these days, I applied for and was granted financial aid. Taking out the federal loans didn't seem so bad; I figured I would just worry about them sometime in the future.
Unfortunately, my plans came crashing down when I couldn't secure enough loan money to cover the full cost of tuition. I didn't have anyone willing to co-sign for me, so all I could get were 2 federal loans. After 2 semesters, I had to put my pursuit of a Bachelor's degree on hold.
On the one hand, I'm that I didn't get myself into even more debt with private loans, but on the other, I wasn't able to complete my degree where and when I wanted to. I was stuck with several thousand dollars in federal loans, and no degree to show for it.
Deferment
One of the biggest mistakes I made with my student loan debt was not paying it back ASAP. I cruised through the months without giving my debt much thought, and when the time came to start making payments, I applied for, and was granted, a deferment. I was in between jobs at that point, and it seemed like a good offer, so it gave me another year to forget all about my debt.
After the deferment year had passed, the bills started rolling in. I still didn't grasp the urgency of unloading this debt, so I made the minimum monthly payment. I was also completely ignorant to how interest worked and to where my payments were being applied.
Waking Up to the Reality of Student Loan Debt
I'm not sure when exactly it hit me that I needed to dump this debt load, but I eventually reached a point where I was tired of making those payments month after month, year after year. I had taken out the loans in 2005-2006, and here I was still paying it off in 2012!
Finally, after years of paying the minimum and racking up interest, I started getting aggressive with repayment. I made a goal to have it paid off by my daughter's 2nd birthday in April of 2013. There were weeks where it looked like I may not meet my deadline. I hustled hard with freelance writing and was able to finally make that last payment ahead of schedule.
Sending that final payment off was huge! It was an accomplishment like no other.  After carrying that monkey on my back for years, I could finally breathe easy. I was debt-free for the first time in years.
A Debt-Free Future?
Now that I've been free from debt for almost a year, I never want to go back to that place again. I do hope to eventually finish that Bachelor's degree, and I think about how that might be possible without taking any loans. It would be tough, but not impossible. For now, I'm enjoying the fact that I no longer have to send off my hard earned money to a creditor every month.
Did you take out student loans?  Have you finished paying them off?