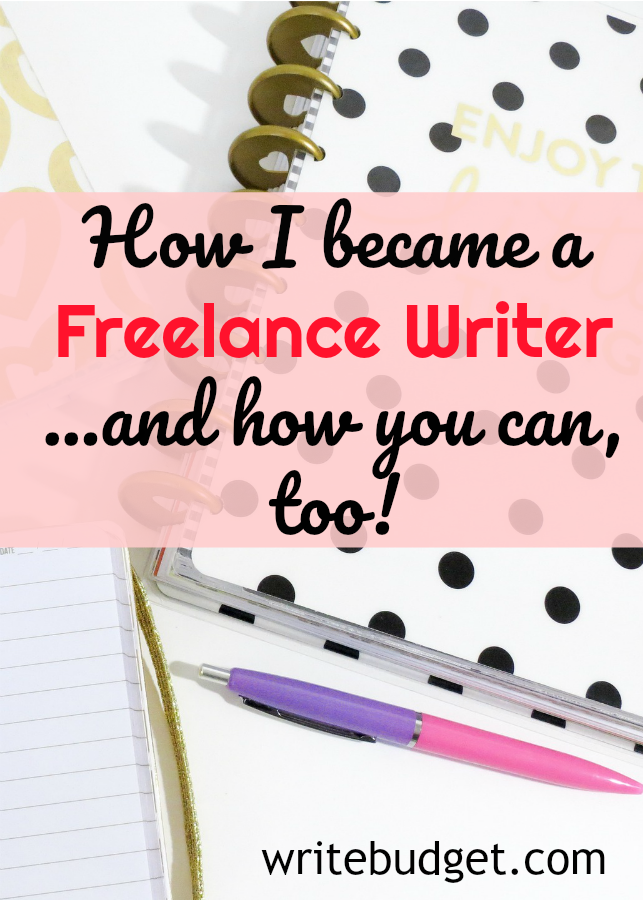 *This post contains affiliate links- see my disclosure policy for more details*
If you had told me 5 years ago that I could start freelance writing from home and make enough money to actually pay off student loans and stay home with my kids, I don't think I would have believed you. However, I am living proof that it is possible!
How I got my start as a freelance writer
My first freelance writing gigs were found the old-fashioned way, through a friend. I was just blogging for fun while staying home with my baby. I wasn't looking to make money blogging, but getting paid to write fell into my lap. When the opportunity came up to make some money at home, and I thought, why not? I already knew I enjoyed blogging and writing.
All of my communication with my first client was done via Skype. He would send me topics to write about, and I would produce a piece and send it over to him. The articles usually ranged between 300-500 words. Payouts happened via PayPal.
It was a good way to get experience. Work was very steady, so my ability to earn was only limited by how much time I had to write each day. The money I was making from that first client wasn't great, but I made a goal for myself to pay off my student loans with my earnings.
Hitting my goal
In just a few months, I earned enough to pay off those loans, and it felt amazing! Reaching a financial goal was an incredible feeling, and I was hooked on freelancing. I realized that my passion for writing could translate into real earnings, and that was exciting. Seeking out new opportunities for freelance writing was the next step.
5 years later, and I'm still able to stay at home with my kids and make money freelance writing online!
How to Start Freelance Writing Today
There are so many ways that you can start writing for money online. I would suggest that you first decide what exactly you want to get out of it. Set some simple goals for yourself, and be realistic.
Ask yourself:
Are you hoping to make freelance writing a full-time thing to replace a day job? Are you just looking for a side hustle? Is freelance writing something that you're able to commit a lot of time to, or just a little time here and there?
How you answer these questions will influence where and how you begin to search for work.
One of the best ways to get your start as a freelance writer online is by setting up your own blog. This will allow you to hone your writing skills and create a portfolio to show potential clients.
I started my blog years ago with Bluehost, and it's been well worth the investment! They make it as easy as possible for anyone to create a self-hosted blog on WordPress.
Start a Blog
I highly recommend either creating a website to promote your writing skills, or adding a Hire Me page on your own blog. Starting your blog gives you a place where you can direct potential clients when they want to see examples of your writing style. It can also help to bring clients directly to you.
If you don't have a blog already, it's so very easy to get one started today! Since you want to look professional, I highly recommend opting for a self-hosted website. It's important to note that if you want to make any money with ads on your blog, you need to be self-hosted. You can do this easily with Bluehost.
I use Bluehost, and they're are very affordable and make the entire process of starting a blog a breeze! I initially paid for 2 years of hosting, which was just over $100. It was a worthwhile investment in myself and my freelance writing business.




Bluehost takes you through the process of creating your website, step by step. You can register your domain name, set up hosting, install WordPress, and begin blogging today. It really is a must if you're serious about being a freelance writer and blogger!
Blogging also provides you the opportunity to hone your writing skills. By getting familiar with the WordPress format, you'll open up more possibilities. Many small business sites use WordPress, and they want you to have experience blogging on the platform.
Content providers
If you're looking for an easy side hustle, you may want to consider working with a content provider. These sites usually offer lower pay, and are often referred to as "content mills". If you just want simple work for quick cash, consider checking them out. Here are a few that I know of, but do not have personal experience with:
A great resource for finding jobs is the ProBlogger job board. Keep in mind that there's probably a ton of competition for those jobs, since it's a popular site, but it's worth a try. I scan it every week or so to see if there is anything up my alley, and I send out an email if something seems like a good fit.
How to Set Freelance Writing Rates
One of the things that you need to do at some point is set your freelance writing rates. Don't  just pick a number out of your hat, though. You want to be sure that you are valuing your time.
If you're writing for content creation sites, you won't get to dictate your rates. Most sites base payment amounts on your writing skills and the word count. Eventually, you can increase your pay rate by being promoted to higher levels. It's an ok way to start freelance writing, but it should be your goal to move beyond content mills quickly.
When calculating your freelance writing rates, take research into account. It isn't just about how long you spend writing a piece and how many words are in it. Consider the time that you'll spend communicating back and forth with the client, researching a topic, sending the files, etc. These are the things that I keep in mind when setting my freelance writing rates.
You can always adjust your rates. Don't sell yourself short! You may complete a few projects and realize that you need to charge more in order to make freelance writing worthwhile for you.
When it comes to clients, seek quality over quantity. Dealing with a few great clients who know your worth is far better than dealing with many clients who don't truly value your time and skills.
Freelance writing online can be competitive, but there's plenty of room for more voices. If you've been thinking about giving it a try, go for it! Put yourself out there and see what happens. Start a blog, start writing, and set goals.
Are you interested in freelance writing? Would you like to make it a full-time gig, or just do it as a side hustle?