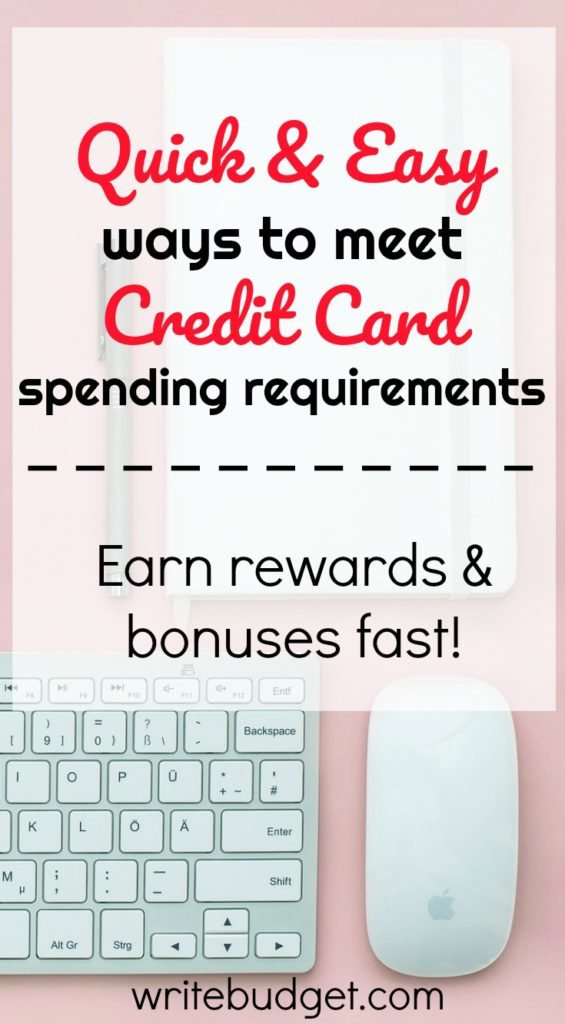 Using credit cards responsibly to earn rewards and bonuses is one of the best frugal hacks you can try. It's an awesome way to get cash back, earn travel rewards, and more. Most cards come with credit card spending requirements that you have to meet in order to take advantage of sign up bonuses.
*You do need to have good credit in order to be approved for cards with rewards and bonuses like this. If you need to build your credit quickly, I share some great ways to here!
A few months ago, I signed up for the Barclaycard Arrival PlusTM World Elite MasterCard. Phew, that's a mouthful!
My original plan for churning this card was to purchase airfare to Europe, which would have almost brought me up to the $3,000 in 90 days spending requirement, in order to earn the 40,000 bonus miles.
Unfortunately, things didn't pan out the way that I'd hoped. Before the card arrived in the mail, we saw a great price on airfare that we simply couldn't pass up. We went ahead and purchased the tickets on a different card. Don't ever pass up a great deal!
I had to come up with a new plan for meeting the credit card spending requirements on the Barclaycard.
Now, this wasn't really easy for us, because we typically don't spend much. Our monthly spending averages around $600 total (excluding mortgage), so even if we put every last thing on the card, we still would not hit $3,000.
I had to come up with a plan, and fast!
Here's how we ended up meeting the credit card spending requirements so that we could take advantage of the bonus miles:
Enlist the Help of Family
If you know that you probably can't hit the limit on your own, ask your family and trusted friends if you can put their big purchases on the card. As long as you can trust them to write you a check or give you the cash right away, it's a great option.
My sister had a few big expenses in the last few weeks, and she kindly allowed us to pay for them on our card. We paid for a moving truck rental, gas for her car, and her 6 month car insurance bill, among other things.
Overall, she helped us to reach about $900. She simply wrote us a check for these things, and then we deposited it and made the payment on the card right away.
Now my sister is planning on signing up for her own rewards card!
Purchase electronics or appliances
Electronics and appliances are those big-ticket items that you may have been thinking about buying. What better time to do it then when you need to hit a spending requirement?
Since my old laptop finally quit on me, I knew that I would have to get one soon. My husband has been sharing his with me, but it's not the most convenient thing to do. Being a freelance writer, I have to have my own laptop!
I decided to buy one when HP was having a 4th of July sale. As a freelance writer, I can't run my business without a reliable laptop. I settled on an HP Envy, and the total came in at just under $700. There was another nice chunk of change that I actually needed to spend.
Pay for Insurance
As I mentioned above, my sister made a 6 month car insurance payment with our card. We also need to make another 6 month payment before we leave for our trip, and it's going to come in at around $600. If you can swing it, it's usually better to pay 6 months at a time on your car insurance. This way, you get a small discount, and it's one less bill that you have to remember to pay each month.
Buy Groceries
This is pretty straight forward. We paid for all of our groceries with the Barclaycard, so there was another few hundred dollars spent on necessities. Easy!
Shop for Gifts
I love shopping early for Christmas gifts. Shopping sales and scouring clearance racks is one of the best ways to save, especially when you have kids to shop for.
Since we want to bring Christmas gifts with us to Europe for our family, I did most of my Christmas shopping last week. I just about finished up my daughter while I was at it, and we got things for each of our relatives in Bulgaria. Wrapping up Christmas shopping in July? Yes, please! I love it.
This is great because now I won't have to worry about a big hit to the budget come November/December, and I got bonus miles on the Barclaycard. Win-Win!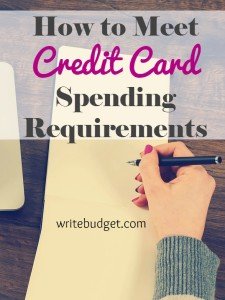 Of course, you should not be churning credit cards, no matter how good the rewards are, if you can't afford to pay off the balance. I took a gamble on this particular card because we generally don't spend a lot of money each month, aside from our mortgage.  Sadly, we cannot put the mortgage payment on rewards credit cards- booooo.
$3,000 in 90 days wasn't easy to do on our own, so we would not have been able to hit that requirement without some strategic planning and help. However, I did end up purchasing things that were necessary, and we will be paying it off without paying any interest.
Do you have a plan for churning credit cards? Have you ever asked family to help you meet spending requirements?