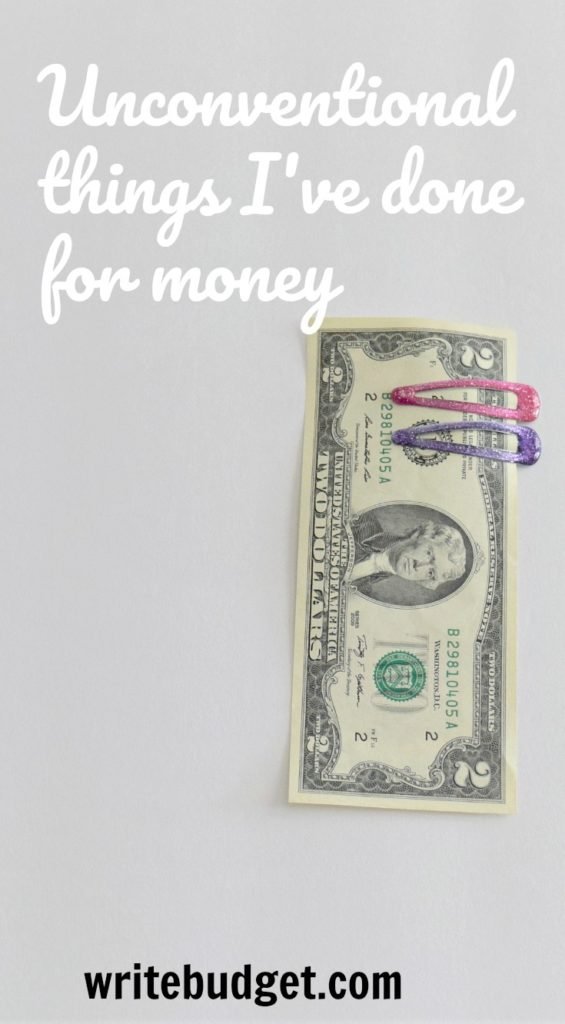 Back when I was a young and eager college student, I was always looking for unusual ways to make or save a few bucks, in addition to working a part time job.  I would browse Craigslist gigs, search online, and take advantage of various opportunities that I heard about around campus.
I don't really search out these types of opportunities anymore, since I'm focused on my family and freelance writing, but I'm always up for finding new, creative ways to make money. Here's a few of the unconventional things I've done for money over the years:
Student research
College was great for research studies that paid cash. I can remember one research study in particular that essentially required me to spend about 15 minutes playing a computer game.  I think I got $20 for that, cash in hand.  It was a sweet deal!
Pay-per-click penny emails
This one is really sad. I don't know why I thought that this was a good idea, but I signed up for a pay-per-click email site, and I earned one to three cents for each email that I clicked through.  I never made more than a few bucks with this, obviously!



Collecting Wendy's cups for Southwest Airline tickets
Maybe someone out there will remember this deal that Wendy's had going on one year? Wendy's ran a promotion with Southwest Airlines. If you collected enough cups with codes on them, you would earn a free one way flight.  Well, I ate a disgusting amount of Wendy's that year (lots of salads!), and I'm not embarrassed to admit that I actually took cups out of the trash and picked them up off the ground just for the codes! In the end, I did get to redeem them for a flight, which was great.
Sitting through a timeshare presentation for gas vouchers
I don't even remember how this came about, but back when I lived in Orlando, I went to a timeshare presentation with my then-boyfriend just to get the free gas vouchers that they were giving out.  There were hundreds of other people there all doing the same thing, so I'm sure it's pretty common in a place like Orlando.  This was not my idea, however. I was actually annoyed to have wasted a few hours on a beautiful Saturday afternoon for an awkward timeshare presentation, but I guess it worked out in the end. We did get the free gas vouchers. Ha.
Signing up for credit cards for free lunch
I think this is a practice that should probably be banned from college campuses, but back when I was in school, there were credit card offers all over the place.  In fact, it may already be banned in some places. People would approach you and offer you a free lunch for filling out an application.  I couldn't pass up "free" Subway, so I applied. Hey, I was broke and hungry! Perhaps it was for the best that I didn't qualify for the cards after all. Looking back, I see how stupid this was, since applying for cards dings your credit score.
Consumer focus groups
I can remember driving to a neighboring town to participate in a consumer focus group about restaurants and dining out.  There were some surveys and activities that I had to do from home beforehand, and then I had to attend the group meeting for an hour.  This paid about $150, which I put towards Christmas presents that year. I actually enjoyed this one!
MyPoints
I love MyPoints and have been using it for years now.  MyPoints is similar to Swagbucks. It's a way to earn points for shopping online, taking surveys, and reading emails.  Once you reach a certain number of points, you can cash out for gift cards.  It's really easy to earn just by doing emails and surveys, and I've received many gift cards over the years.
I also signed up for mystery shopping back in college, but never got around to doing it.  I'm sure there's other things that I'm forgetting to list here, too.  Some studies that I was sorry to have missed out on due to my actual job included a beer tasting, and a pizza tasting at SeaWorld- can you believe people actually get paid to eat pizza and drink beer?  What a life 🙂
What are some unconventional things that you've done to save or earn a few bucks?