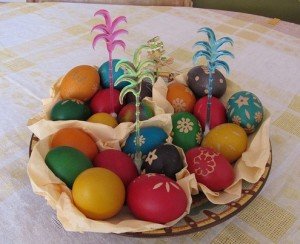 Happy Easter, frugal friends!
Even if it has no religious meaning for you, getting sweet treats from the bunny is reason enough to celebrate, right?  I think so 🙂
Since it's a holiday, I'll keep this post short and sweet.  We're getting ready to head over to my aunt and uncle's house to enjoy a kiddie egg hunt and some good eats.
For those of you with kids, how much do you spend on an Easter basket?  I managed to keep things very budget-friendly and picked up some little activities and books from the dollar store and the dollar bins at Target.  The whole thing came in at less than $15.  Not sure if that's about average?  We still have candy leftover from Halloween, so one chocolate bunny was more than enough to round things out!
Alexa rank update: Progress continues, now sitting at 125,152
Some posts from others that I enjoyed recently:
Do I Need Travel Insurance? by Stephanie at The Broke and Beautiful Life
Three Personal Finance Lessons I Learned While Traveling in Greece by Liz at Budgeting For More
Our First Airbnb Experience by Jon at Our Fine Adventure
For Investment Success, Avoid The Noise by Michael at Save-Invest-Grow
Have a great holiday!