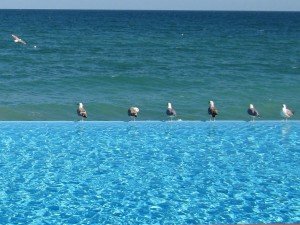 It's crazy that this month is practically over- time is seriously flying by this year, isn't it?  With May just around the corner, I've been summer dreaming…
This month once again saw more spending than usual, but it's been for a good reason. I mentioned last month how I was going to make my health a priority, and I'm happy to say that I really am doing just that.
I've been making Dr.'s appointments and taking care of my health issues so that I can start to feel my very best again. Unfortunately, every trip to the Dr. comes with a $30 to $50 copay, so our budget saw an increase because of that. A 48 hour virus is also working it's way through our household, so there was some extra spending at the pharmacy this week, too.
It's all good though, because nothing is more important than our health, and money means nothing without it!
Summer Spending
Sunny days have had me dreaming about summer, and thinking about all of the fun things we'll be doing. We're probably going to have to bump up our overall budget for the next several months. Living so close to the South Jersey shore means trips to the beach, and even though we're lucky enough to have a place to stay (my grandmother has a summer house), there's still the added expense of food, gas, and amusements.
I'm going to do a lot of pre-planning so that we don't end up spending twice as much money on snacks and meals at the boardwalk. I also took advantage of the pre-season discount ticket sale for the amusement pier that we frequent in Ocean City, New Jersey. We've got our first beach trip planned for later this month, and I can't wait!
Have you got summer on the brain, too? Are you planning any upcoming trips?
Alexa Rank Update: With just a few days left this month, I don't know that I'll make it below 100,000, but I'm still making progress!  Currently at 118,611.  I'll shoot for that goal in May 🙂
Recently enjoyed posts from others:
Can You Purge 20 Items from Your Closet? by The Frugalweds
How to Find a Writing Job by Michelle at Diversified Finances
I hope you had a great week!