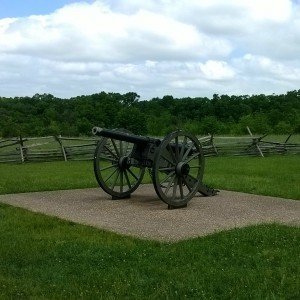 We took off on a little roadtrip on Thursday and headed West to Gettysburg. This is the first of hopefully many trips that we'll be taking to explore the areas around us. It was almost a 3 hour drive, but there was a lot of beautiful scenery to take in. We went through farmlands, a state forest, and charming little towns.
I hadn't been to Gettysburg since a school field trip years ago, so this was kind of like seeing it for the first time. Just looking at the points of interest on the battlefield tour, it doesn't seem like anything unusual- open fields, wooded areas- but when you think about what actually occurred there in 1863, there's a heaviness in the air. About 50,000 soldiers died in the battle of Gettysburg over 3 days in July, and it's a number that's really hard to wrap your head around.
If you've ever thought about visiting, I definitely recommend it. The town itself is really charming. We stayed in Chambersburg, about a 25 minute drive away.
Rural PA is so different than what I'm used to, and I find it really fascinating. This trip got us thinking about if we could live in a place like that, with a seemingly slower pace of life. The natural beauty is certainly a big draw. As someone who grew up in the burbs of a major city, it would definitely be a lifestyle choice to move to a rural area, and one that I'm not sure that I'm cut out for. I loved the tiny town that I lived in Alaska and would move there in a heartbeat, but with the tourist industry, there was a lot of hustle and bustle there, too. This trip gave us a lot to think about.
Blog Updates
As I mentioned last week, my Alexa scored has started going back up! Today it's at 122,175. It's really weird and annoying, but I don't think that there's anything I can do about it. I'll keep posting as usual, and hopefully it will either stay where it is or go back down.
Pageviews have been steadily increasing every month, and I'm happy to say that May was no exception- it was my best month yet! Thanks so much to everyone who is reading and has shared my posts- I appreciate it so very much!  If you're reading and haven't ever commented, please say hi!  I'd love to hear from you.
Here's what I published this week:
How to Get Around These Common Writer Roadblocks
The One Thing I'll Never Regret Spending Money On
Recently enjoyed posts by others:
Two Key Blogging Tips to Help Your Brand and Exposure by Debt Debs
Yard Sale vs Retail by Derek at Money Ahoy
How to get Health Insurance when the Exchanges are Closed by Young Adult Money
Hope you had a great week!