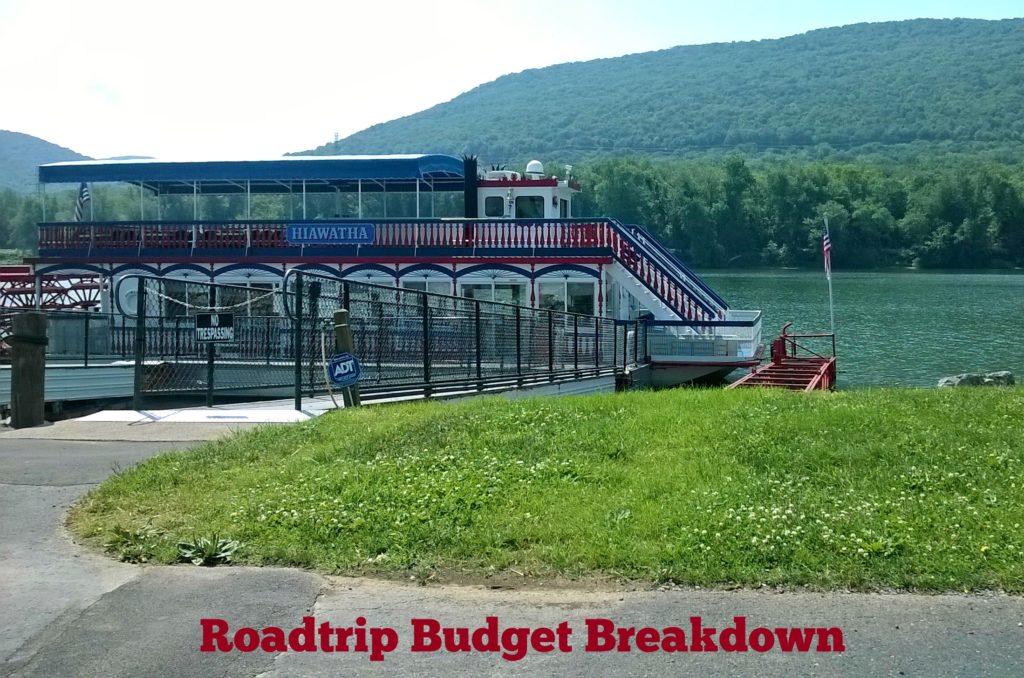 Our roadtrip last week to Williamsport, PA was a quick one. When M. has 2 days off of work in a row, we like to take advantage of his employee hotel discount and see a new place. We chose to head Northwest this time, and explore a city along the Susquehanna River.
We don't really budget for our trips beforehand, but we always want to keep our spending at a minimum. We chose from a handful of affordable hotels, and we picked the cheapest one. Here's our roadtrip budget breakdown for Williamsport:
Hotel:

$76

($35 per night, plus taxes)
Gas:

$78 

Entertainment:

$15.50

Food:

$60
Trip Total: $229.50
Overall, I don't think this is too bad for a family of 3. We still have a half tank of gas left over. Our hotel offered a continental breakfast, which we took advantage of. We had dinner in a restaurant once, and since our hotel room was equipped with a kitchenette, we brought a cooler of snacks and drinks with us.
The $15.50 for entertainment was for the Hiawatha Paddle Wheel Riverboat cruise that we took. The ticket prices were really cheap, and I also found a coupon in one of those free tourist guides that gave us an additional $3 discount. We bought some snacks and drinks on there, as well.
Personally, I just love walking around a town or city and exploring it on foot. Not only is it free, but you also get to see different local spots that you otherwise wouldn't on a guided tour.
This was a really fun quick trip. On the 4th, we got up and checked out of the hotel and drove about 20 minutes to a nearby town. Williamsport did not have a parade happening, and our daughter really wanted to see one, so I looked up online where we could find one in the area.
We got to enjoy a good old-fashioned small town America Fourth of July parade, and I don't think that there is a more perfect way to spend the holiday! It lasted at least an hour, and our daughter got a bag full of candies and other goodies. It was definitely one of the highlights of the trip.
This is probably our last roadtrip for a while, because we really need to focus on saving up before we leave for Europe. Less than $300 for 3 people, for 3 days on the road, isn't too bad, though!
What do you think of our roadtrip spending? Do you usually spend a lot on food and entertainment?