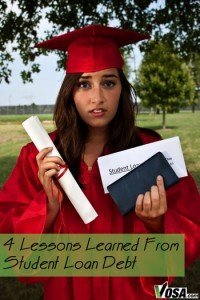 It's quickly approaching the one year anniversary of my last student loan payment. While I've been enjoying my new-found freedom from debt, I've had some time to reflect on the 6 year long journey of paying it off.
Anyone who has had, or currently has, student loan debt hanging over them knows how overwhelming and insurmountable it can feel at times. Whether you have a 4, 5, or even 6 figure debt that you're trying to tackle, there are moments when you feel like it will never be paid off.
Speaking as someone who has come out on the other side, I can tell you that there are actually some great lessons to be learned from paying back those hefty student loans.
Here are the 4 biggest ones that I've taken away from my experience: