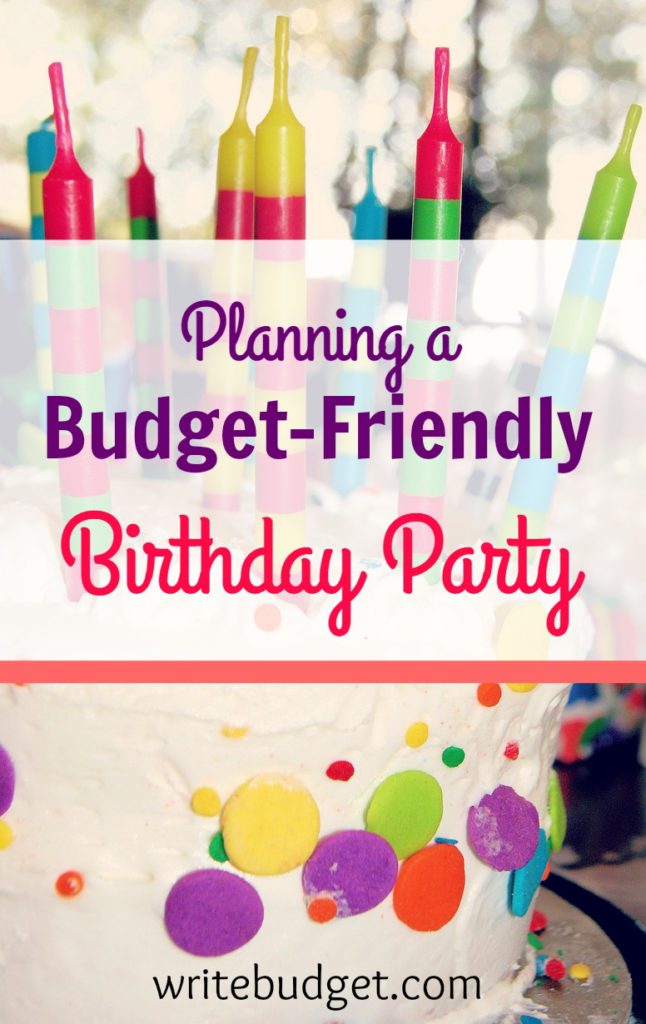 With my daughter's 3rd birthday fast approaching, I've been giving some thought to what type of celebration we'll have this year. I do know that it will just be family, as she isn't in preschool and doesn't have any little friends yet. I also know that we'll be having it at home, rather than going out somewhere.
With those 2 details down, I'm starting to come up with some budget friendly birthday party ideas to keep our costs low and still make sure that she has a great time.
Set a Budget and Stick to it
The cost of a party can quickly get out of hand once the planning and shopping begins. That's why I want to set a budget for the whole thing in advance, then stick to it once I go shopping for food and supplies. I'm still not sure if I'll do a homemade cake or splurge on Carvel, so it could end up being the biggest expense of the party. Once I decide, then I can determine our exact budget.
Having the party at home will definitely save us some cash. I know a lot of people like to throw kiddie parties at places like Chuck E. Cheese, but since we're just doing family members of all ages, that wouldn't make much sense. Plus, the pizza that we serve will probably be better than the mouse's 😉
Choose a Theme, Make a List
Choosing a theme makes the planning process so much easier. Once you have a theme, then you can write up a supply list and go from there. It can be tough to nail down a theme with a little one, as any parent can appreciate how often they change their minds. Ultimately, I'll have to make the final call so that I'm not out at the store at the last minute, scrambling to find the right stuff.
As of right now, I've got my daughter sold on a Strawberry Shortcake party. With that in mind, I know that I'll be looking for pink, green, and white balloons and supplies, so I can take my list to the dollar store and knock out those basic items for just a few bucks.
You don't have to buy all of the themed items from the party supply store. Just grab a few decorations, then go with a solid color scheme for the plates, cups, and plasticware. You can get all of those items at the dollar store, whereas the party supply stores tend to mark those items up.
Get Creative
I've been looking on Amazon and Party City for cake toppers and decorations, but Pinterest has proven to be a wealth of good ideas for going the homemade route.  I've been "pinning" some really cute party pictures. Not only does this save money, since stuff with licensed characters can be overpriced, but it also gives that special handmade touch.
I think you do have to be careful though when it comes to making your own decorations, because you can easily end up spending more on craft supplies, not to mention the time it can take to put things together. I plan to keep things as simple and basic as possible, and mix them in with some pre-made decorations from the store, too.
I know that as my daughter gets older, the planning process will probably become more elaborate and the parties more expensive. For now, I'm hoping to keep things as simple and affordable as possible, while still throwing a fun celebration.
Have any tips to share for throwing a party on a budget?