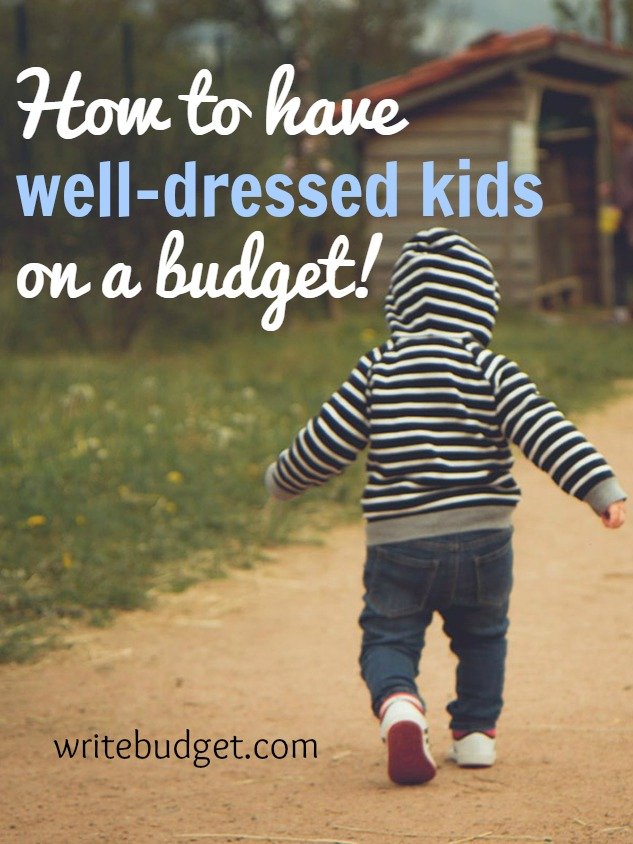 I'm sure many parents will agree with me that it's so easy to get caught up in baby and kids clothing, simply because the styles are so darn cute! Unfortunately, keeping your little ones in the latest trends can be quite costly, especially since they outgrow things so fast. For frugal folks like me, I simply want my daughter to look neat, clean, and cute. Luckily, I've found some pretty easy ways to do just that while sticking to a budget.
Here are my 5 tips for dressing kids on a budget:
 Thrift Stores
Thrift stores can be hit or miss, but if you take the time to hunt through the racks, you'll find some decent items. I've gotten a lot of good clothing for my girl at Goodwill, and sometimes they still even have the original sales tags attached from stores like Target. It's definitely worth a look.
Flea Markets & Yard Sales
Take a look around any flea market or yard sale, and you'll notice that people are always unloading old kids clothes. They're more than happy to be rid of the stuff and are just looking to make a few bucks off of it. I've picked up practically new baby clothes for as little as 50 cents each at flea markets, and I bet they were worn a grand total of once by the original owner. Local swaps and sales that are organized online via facebook are also a good place to check.

Hand-Me Downs
I was incredibly fortunate to have a relative clear out her attic and give me all of her old baby clothes and other items when I was pregnant. It was win-win for both of us, as she wanted to minimize, and I was in the feverish process of preparing for my new arrival. She gave us boxes of clothes in great condition and I could not have been more thankful. Once friends and family know that you're expecting, you may get similar offers, and of course, it never hurts to ask around!
Gifts- Asking for Clothes Instead of Toys
When birthdays and holidays roll around, people often ask you what to get the kids. If your child already has enough plastic junk taking over the home (which is very likely), then ask for clothes! Some folks may not want to get kids something "boring", but others will be happy to. I've found that my female friends and family can't seem to resist shopping for my little lady, which is totally fine by me!
Shop End of Season Sales
This one is my personal favorite. I scooped up an entire summer wardrobe for my girl for less than $15 at Target by shopping the clearance section.  Each item was marked down to $1.50! I snagged cute screen printed t-shirts, tank tops, and shorts. I've been doing this since before she was born, picking up clearance items in larger sizes that will be seasonally appropriate. I love that it saves me the stress of having to shop for a new wardrobe each season. It's getting harder to do as she gets older and grows like a weed, but I try to go up a size or two when in doubt.
Do you use any of these ways to save on kids clothes? Have any other tips to share?