Ever since we bought a new tv back in February, M. has been itching to get a Blu-Ray player.
I fought him on it for a while, because I thought it was totally unnecessary and maybe even a waste of money. After all, I have a box of DVDs in the basement that hasn't been touched in years, and I probably spent a few hundred dollars on those movies. Just look at how much technology has changed since DVD players became really accessible to the average consumer; today you can find most movies for about $5!
We also subscribe to Netflix, so we almost always watch shows and movies on there. Could we justify buying a Blu-Ray player?



I finally gave in and agreed to the purchase, so M. did a little research on various models and prices. He found one at Best Buy that he liked, and it was also on sale. We headed out to the store to drop some cash.
Interestingly, the exact same Blu-Ray player was priced $10 higher in the store than it was online. M. got out his phone and double checked the online price, and sure enough, it was cheaper.
Get a Deal with Price Matching
We certainly were not going to pay the full price in the store when we could order online for cheaper. But then, we remembered- price matching!
M. showed the salesman the online ad, and of course, he went ahead and matched the price. It was as easy as that! Just by having our phone handy and pulling up the online ad, we were able to get the cheaper price.
We were now the proud owners of a Blu-Ray player. One small problem, though- we didn't own any movies.
We headed over the Target, where Frozen was on sale for $19.99, according to their website. Once again, the in-store sticker price was higher- $27.99 for the Deluxe Blu-Ray plus DVD. No way was I going to spend that kind of money on a movie! We looked for Tangled and found that it was priced the same, so we once again pulled out our trusty smartphones and checked the online price- $19.99 for Tangled, too.
We grabbed both movies and headed to customer service. We explained the online price was advertised at almost $8 cheaper for each, and the cashier gladly gave us the lower price. Without our handy smartphones, we would have ended up spending almost $30 more that day!
Having a smartphone offers a lot of advantages for consumers. You would be crazy not to do a quick online price comparison before making a spendy purchase, as most stores have a policy of matching prices.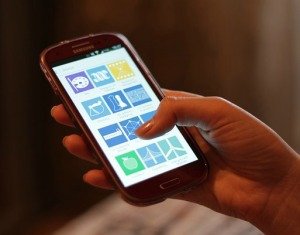 Always be a Savvy Shopper
A smartphone can make you a savvy consumer. You don't have to worry about overpaying for a product or missing out on a lower price or a better deal. The next time you're shopping for something specific, just get out your phone, pull up retailer's websites, and see who is offering the best price. Stores are usually happy to make their customers happy, even if that means losing out on a few bucks.
Has your smartphone ever saved you money? Do you check around for better prices when shopping?