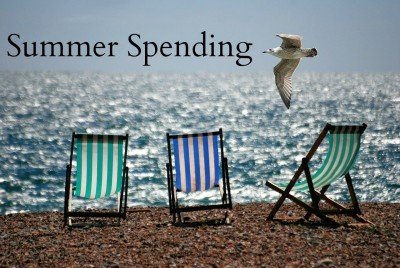 As summer comes to a close, it's time to take a look back on our spending. Thankfully, Mint.com makes this very easy to do 🙂
We really had to buckle down and stick to our budget, and I think we did a good job. Looking back on the last few months, we really did have a lot of fun.
So, how did we do with summer spending? Here are the numbers:
We bumped up our grocery budget to $300 for the summer, since we like to grill and eat a lot of fresh foods. In the winter, we make casseroles and soups, so our grocery budget is pretty good at about $250, but we avoid turning on the oven during the summer. We eat salads almost every day, and since we had a small garden this year with cucumbers and tomatoes, it really did help us save!
We like beer and margaritas. There's nothing better on a hot day than a cold can of Modelo, or a bottle of Corona with lime. Or how about a strawberry basil margarita, blended up with fresh basil from the garden? Cause there were some of those going on here, too. Yum!
This includes pizza, ice cream, and "fast" food. We don't go out to eat very often, but we do love pizza! It's hard to resist a slice and a Polish water ice when we're on the boardwalk. We also dined out a bit on our road trips.
Gas prices around here were pretty stagnant all summer, sitting at about $3.65. It's currently around $3.45 a gallon. We had to fill up a few extra times on road trips, and when we went down the shore. We budget $100 per month, so this wasn't too far off the mark.
We stayed in hotels when we went to Gettysburg and Williamsport. Since M. works for a brand hotel, there are awesome discount rates available to him all over. It's a great perk of working in hospitality when you love to travel!
We don't buy many clothes, but we have a 3 year old who is growing all the time, so she needs "new" things every now and then. This number includes work shoes and basics for M., shoes and a swimsuit for our daughter, and some other miscellaneous items. I'll be hitting up my favorite second-hand sales for fall and winter clothing soon.
Summer Spending total: $1931
Obviously this does not include our fixed monthly bills, like car payment, rent, and cell phones. This is just the variable spending that we did this summer. We went down the shore 4 times, took 2 road trips in PA, and spent a lot of relaxing evenings at home, sipping on a cold drink in the backyard. All in all, I'd say we had a really great summer without breaking the bank.
Have you calculated your summer spending? How'd you do?