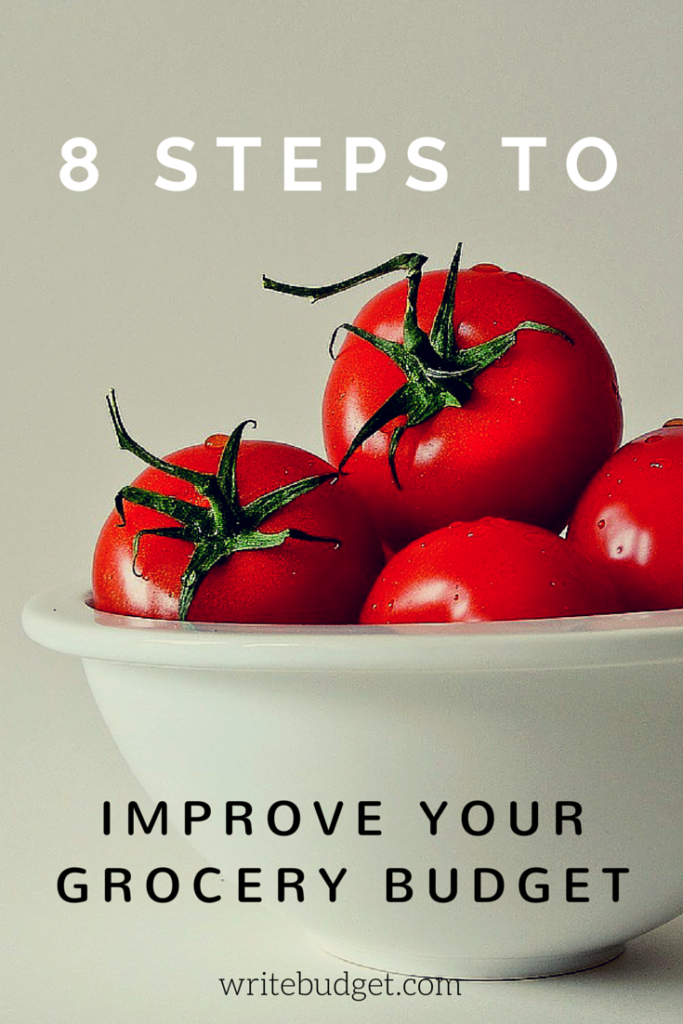 Food costs seem to always be on the rise, making it more and more difficult to set a grocery budget for your family that you can actually stick to. It's no easy feat feeding a family for cheap, but it can be done. I know, because we consistently stick to our food budget of $300 per month for a family of 3. Here are 8 simple steps to improve your grocery budget and still eat great!
Start Planning
There are no hard and fast rules about meal planning that you need to follow. It can be as simple as listing out the things that you make often, and then spreading them out over a few weeks. Think about the ingredients that you use most often, and write those down.
Next, take some time to browse online or go through your cookbooks for new recipes that you would like to try. Add these ideas into your plan. Once you have a basic outline of what you want to make, then you can start looking for the best deals.
Create a Price List
The next time that you go to your regular supermarket, jot down the price of the items that you most frequently purchase. You could even just snap a picture with your cell phone, or use your receipt as a reference. Get a list down so that you have a general idea of what things cost.
From there, you can break it down into cost per meal. The point is to start being aware of the average costs of the things that you cook and that your family likes to eat. It doesn't have to be an exact number, just get a rough estimate.
Maximize Coupons
If you don't have a lot of time to spare, then you don't have to become an extreme couponer. Take a few minutes to browse through the weekly circulars or do a quick search online to find coupons for items that you buy. My favorite coupon and deal sources are Coupons.com and Target's cartwheel app.
You can stack manufacturer coupons with retail coupons. One thing I love about Target is that I can use a manufacturer coupon, a Target coupon, and Cartwheel to really get the best bang for my buck. Find the grocery stores in your area that will double coupons. Even a few coupons will help you save on a shopping trip.
Post the Meal Plan
Once you have the week's meals planned out, write them down and post it in the kitchen. Not only will this help you to remember what's on the menu, but it will also allow family members to see what's coming up, too. They'll know what's being prepared, so there's no surprises.
Make Meatless Meals
If you've always made meat the main course of your dinners, then it can be hard to move away from that mindset. However, opting for meatless meals several nights a week will definitely help your budget.
Another way to eat less meat is to simply use smaller portions. Try meals with beans, rice, lentils, and even veggies with meat mixed in. One of our favorites is to make a big salad and add some chicken, pork, or sausage. This way, meat isn't the main event, it's simply another ingredient in the mix.
Get Creative
Don't be afraid to get out of your comfort zone and try new dishes. Your family may resist at first, but eventually, they'll come around and discover new meals that they'll enjoy. Look for low-cost ingredients and fresh produce to come up with creative recipes. There's certainly no shortage of resources on the web for ideas. I love my Pinterest boards when I'm stuck for ideas!
Cook in Batches
Preparing meals in batches is a great way to have food for several days without having to put much thought into it. This is also the perfect way to get lunch and dinner out of one dish. Eating leftovers isn't a bad thing, it's a great way to stretch your dollar!
Embrace Simplicity
Every meal doesn't have to be an event. Embrace simple recipes and simple meals that are easy to prepare, will stretch over several days, and are nutritious. By figuring out how much your favorite meals cost, you'll be able to plan ahead so that you can stick to your grocery budget every month.
Do you have tricks you use to reduce your food spending?